Watch Early Morning Sumo Training and Breakfast in Tokyo at a Sumo Stable
( Tour code # SMO001 )
Sumo wrestlers are the only ones who keep the traditional hair style for over 400 years! Being a national sport, Sumo is still very popular. It is not easy to watch the professional grand tournaments, because it is a seasonal sport and the seating is limited. This is a rare opportunity to watch their morning practice and have a traditional Sumo Chanco breakfast with the wrestlers after the training.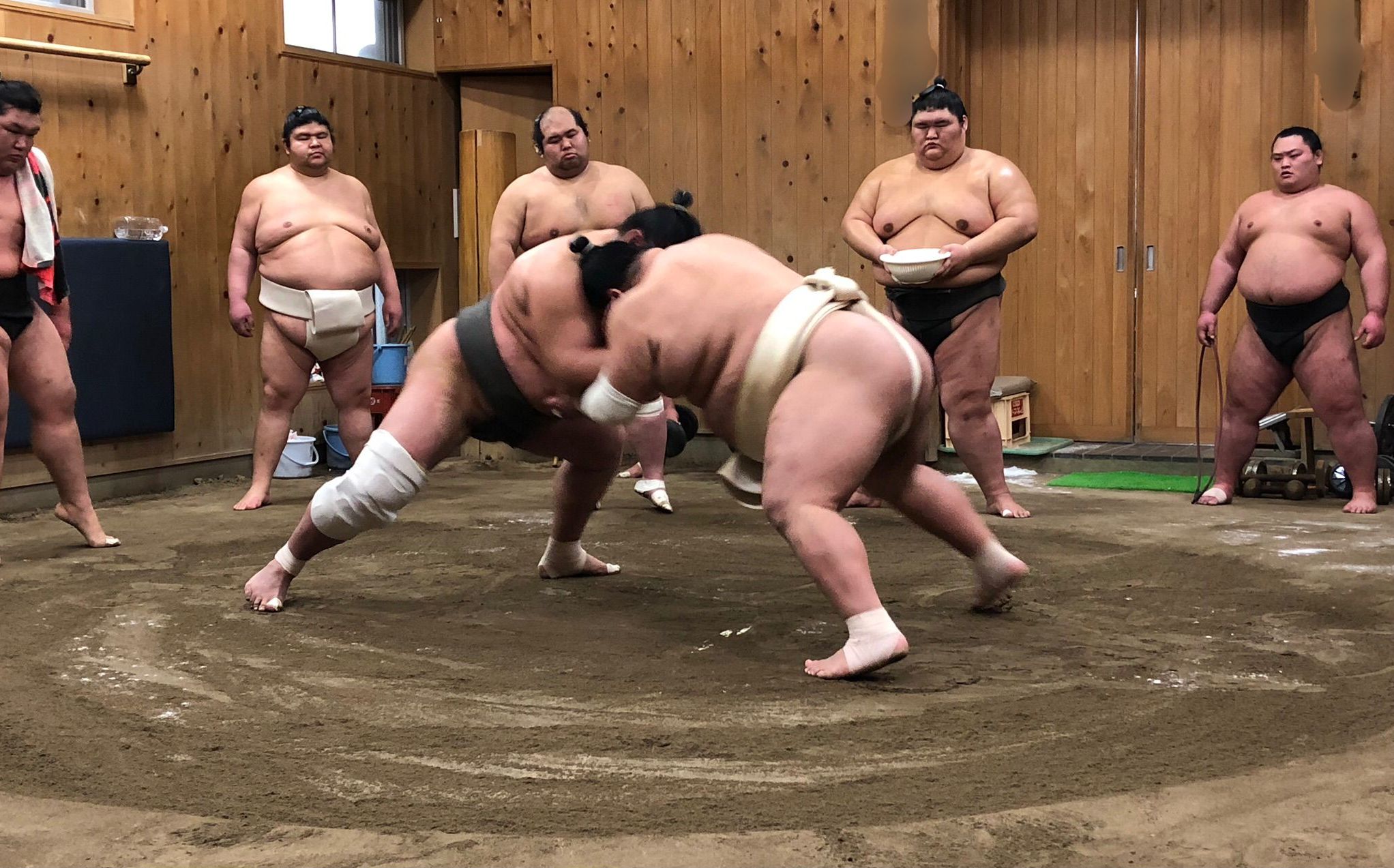 Highlight
1. Exclusive breakfast at a sumo stable with sumo wrestlers
2. View sumo practice close-up
3. Professional guidance of history and rituals of Sumo
Model Schedule Sample
9:00
Meet up at a metro station in east side of Tokyo
Guidance of viewing Sumo morning practice and history and ritual sharing
Walk to the Sumo Stable
9:15
Start Viewing a Sumo morning practice
Photo taking is allowed without flash
After the training, photo taking with the Sumo wrestlers
10:00~10:30
After the morning practice, join for the traditional Sumo Chanco Breakfast in the stable. You will have a chance to chat with Sumo wrestlers and the Stable Master when he is available
11:00~11:30
After the breakfast, the guide will walk you to the station and the tour will disband at the station
Others
Hotel Pick up is available with additional charge. Pick-up at major hotels in the city center is 5,000 yen (tax-included) per group, this does not include any transportation. Please feel free to ask details.
PRICE
¥18,000
( Price: 18,000 yen for a person when you join as a group of three (including tax), total 54,000 yen. )
Meeting Location
Metro station in the east side of Tokyo
Duration and Start time
Start at 9:00 am, 2~3 hours
End Location
the same Metro station as the Meeting Location
Availability
Morning practice days excluding the Grand Tournament Period. Please feel free to ask details.
Restrictions
Need to be able to sit straight during the practice, a chair is available. No laying down during the practice. No talking during the practice.
What's included
A professional guide fee in English, Sumo viewing, Photo shooting with Sumo wrestlers, traditional Sumo Chanco Breakfast with the wrestlers
What's extra
A traveler's transportation fee to and from the Meeting Location.
Cancellation
50% if cancelled 8 days before. 100% if cancelled within 7 days the event. (Date shall be calculated on Tokyo, Japan time.)
---